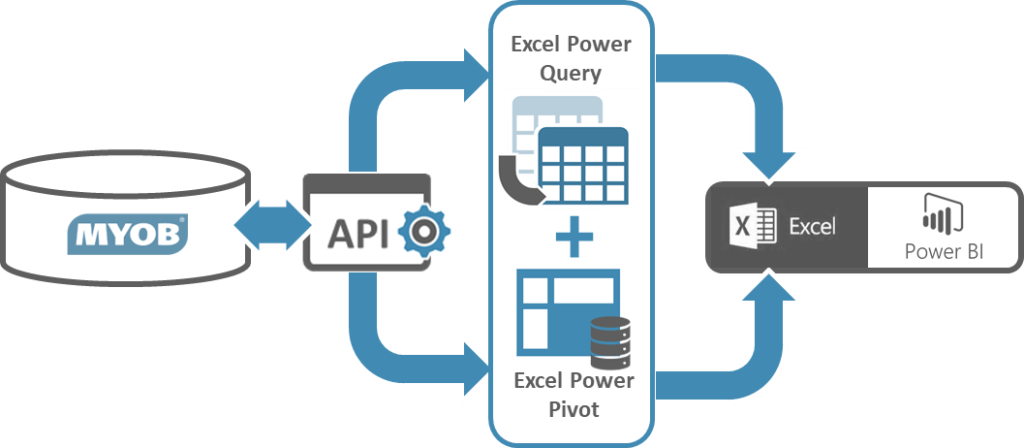 Approximately 1.2 million businesses use MYOB products, this versatile accounting package has several offerings, but one thing they have in common is a less then amazing reporting function and integration with Excel.
In 2013 MYOB Introduced a set of Application Programming Interfaces (APIs) for several of its products, making it now possible to extract data from company files online and in real time.
MYOB APIs and Excel
Thanks to Excel and Power BI's native power query functionality, your spreadsheets can now consume data directly from your MYOB Company files.
I recently had the opportunity of applying MYOB's Account Right API Capability, to develop a set of business financial statements integrating over 10 separate MYOB company files.
This reporting tool now caters for all the financial reporting needs of the organisation. Not only has it saved hours/days of work every month, but it provides financial visibility and accuracy that was just not possible via the manual process. Best of all it does not require any additional software or licenses just Excel.
Presently MYOB has released APIs for the following products:
What is an API?
An API is a set of commands, functions, protocols, and routines that can use to create software or interact with a systems or software. It provides developers with standard commands for performing common operations, eliminating the need for extensive code writing.
There are several types of APIs, the most common (and the ones used by MYOB) are referred to as Web APIs, otherwise known as Web Services these provide an interface for web applications, or applications that need to connect to each other via the Internet to communicate.
Web APIs adopt a Uniform Resource Identifier (URI) syntax, think of them as URLs with additional commands, which communicate with the host system.  These are referred to as a resource (location of information) and the API Call (which send instructions to the MYOB environment).

 Need some advice
If you don't want to learn all the technical ins and outs of making this work, just leave your details below and we'd be happy to help.