Microsoft Power BI = Actionable Information Everywhere

Make data-driven decisions with Microsoft Power BI in Perth
What is Microsoft Power BI?

MicrosoftPower BI is a suite of 3 utilities that enable you to connect multiple data sources together and share it easily.  It provides a flexible view of your business to provide valuable insights that drive better business decisions.
Power Query (Built into Excel and Power BI Desktop)
Power Pivot  (Built into Excel and Power BI Desktop)
Power BI Desktop (A standalone development tool incorporating Power Query and Power Pivot)
PowerBI.com (A cloud based platform for hosting and sharing dashboards)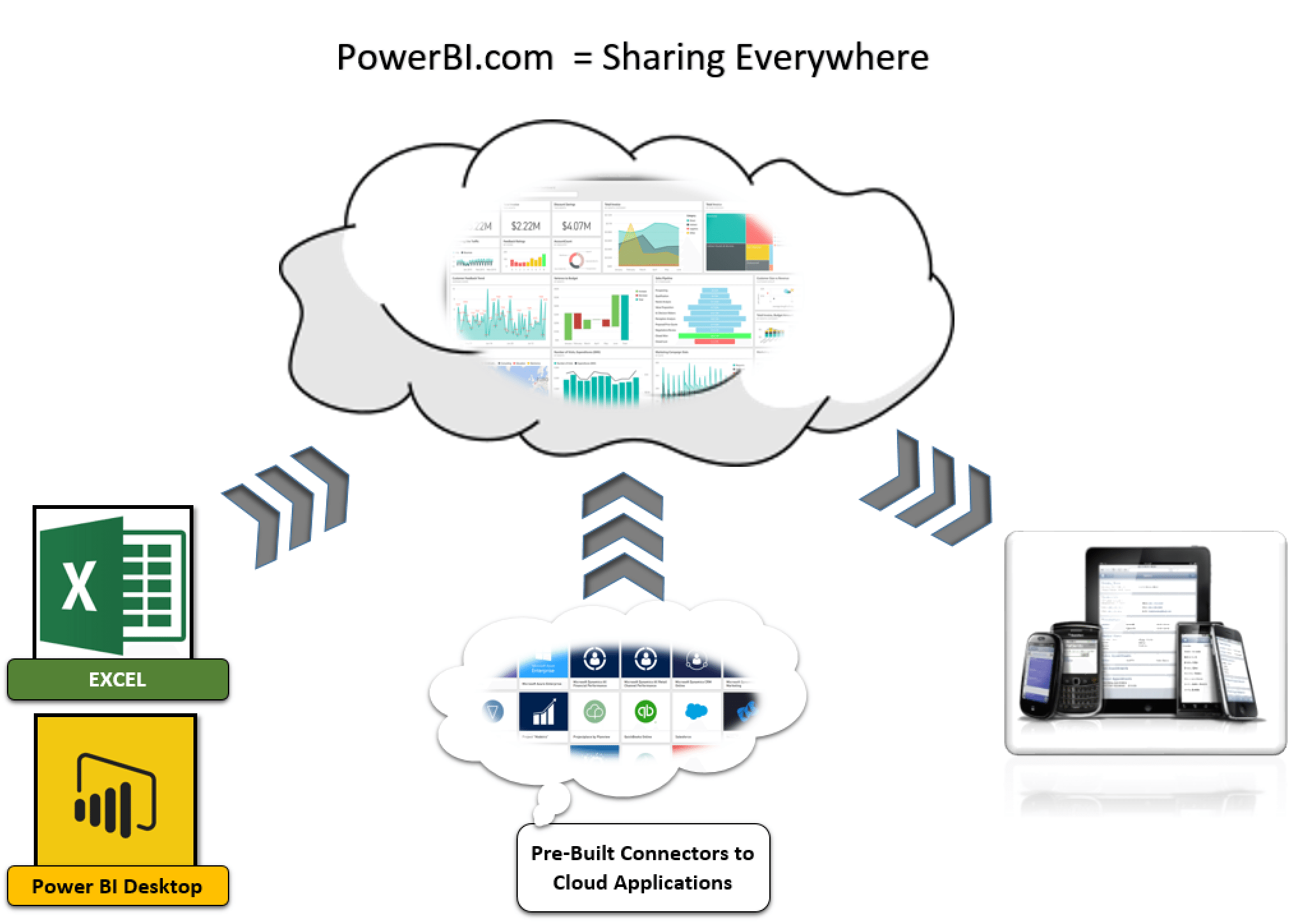 The Power BI suite lets you collect data from anywhere, link it together, perform calculations, slice and dice data, and view it on the web for easy access in a secure way.
All this for almost zero licensing costs.
Live Demo
The charts in this live demo are "clickable".
For example, click on the bar for East Region (in the bottom right corner) and see all the other charts and figures change for that region!
Use the expand icon in the bottom right corner to get the full experience.
It's amazing!  

 Check out this 90 second overview
Microsoft Power BI can be used as a stand-alone web service but is at it's best when created using Microsoft Power BI Desktop and Excel.
This is Power BI
"Jeff and his team at Access Analytic have the ability to take complicated information and make it meaningful and useful. They know more about using Excel than anyone I know and they can either do the analysis for you, build tools so you can access the information easily or train you to do it yourself. If you need to better understand the numbers, then Jeff can help." David Beard, Keynote Speaker, Consultant & HR Specialist
Key advantages of Microsoft Power BI in Perth
Easy familiar toolset – keep using Excel or the Microsoft Power BI Desktop (which feels a lot like Excel)
Almost zero software licence costs. Just $13 per user per month!
Rapid Development – days to weeks, not months
Flexibility – connects to any data source
Browser based – avoid the limitation of sending big files by sharing your reports securely with anyone, anywhere and on any device
Robust, fast and secure – using the Microsoft Power BI web service
If you'd like to see how your organisation could benefit, we can help you achieve this quickly and at a very reasonable investment that will pay for itself in a short period of time.
It's easy to get the benefits of Microsoft Power BI in Perth
Give us a sample of your data (we can sign a CA or you can take out the confidential bits).  We'll spend an hour on this & produce some visualisations for you so you can see it working with your data (FREE).
If you like what you see, we normally proceed to a scoping study to identify what you want, where the data is, and how much work will be involved.
Subject to your approval, we can then work on the project to deliver your own beautiful dashboard and you can start getting valuable insights from your data.
By maximising the value of your data, you'll generate powerful insights from it and make better, data-driven decisions.
Benefits
Our clients often experience benefits such as:
Identifying new opportunities to generate more revenue
Finding new ways to reduce costs and reduce wastage
Discovering ways to improve productivity and efficiency
Making better decisions that are based on facts, rather than opinions
What could these kinds of discoveries mean for your Perth business?

Take the next step and access more powerful business intelligence today with Microsoft Power BI.
Contact us on +61 8 6210 8500 or by email to arrange a confidential meeting or leave your details below.