Top 10 reasons why winning CFOs are flocking to Power BI for data analysis
"A (data analysis) picture is worth a thousand words"
(Frederick R. Barnard – 1921)
"Time is Money"
(Benjamin Franklin – 1706 to 1790)
The above truths are even more relevant in today's real-time business environment. Those who make the smart decisions fastest, are the winners and data needs to be actionable as soon as it's created.
This is where Power BI comes in.
Power BI is a suite of analytic tools that enables you to monitor your business, analyse data, share insights and get answers quickly.
Here are the top ten reasons why winning CFOs rely on Power BI to stay ahead:
1. Dashboards
With all the key metrics in one place, the Power BI dashboard gives you an instant snapshot of the most critical business data.
Tedious scrolling and switching between windows, applications, drives and even servers to get the full picture, sucks up critical time which should instead be spent on value-adding activities.
Power BI collects the information for you and presents it succinctly, to save time and expedite the decision-making process.
To view underlying data, users can drill down to the detailed level with one click on the dashboard.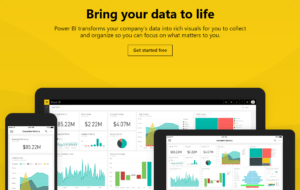 2. Rich Visuals
Scientific research shows that 90% of the info transmitted to our brains is visual and that we process visuals 60,000 times faster than text.
Power BI allows for otherwise mundane data formats to be represented in a fresh, engaging manner.
It brings data to life, thereby enhancing the receptiveness of your team, a great starting point for meaningful collaboration.
3. Anywhere, anytime data analysis
The digital age which we live in requires 24/7 accessibility to business information when we have the need to do so.
Power BI makes it possible.
Via its built-in gateway, Power BI continuously delivers updated data from databases in your office or the web to the desktop canvasses and mobile devices of your choice, thereby ensuring crucial information is always available at your fingertips.
4. Self-service
There is no need to involve IT staff in either the setup or day-to-day use of Power BI.
With a little training, business users can access data for themselves and turn it into the valuable information and analyses needed for decision-making.
Power BI is therefore a true enabler which greatly enhances efficiency, reduces costs and expedites objectives.
5. Flexible and holistic data analysis
Power BI replaces outdated Excel functionality that was limited in scope, difficult, unreliable, and hard to use.
It provides business users with a suite of tools that are far more flexible, powerful and holistic, which can access a far wider range of data sources. Almost any data source is now possible!
Furthermore, these tools are available in both Excel and Power BI Desktop. This allows Excel users to easily transition to the new Power BI design tools plus it reduces the complexity of using these.
6. Shallow learning curve
Power BI is browser-based and employs a lot of Excel syntax. This makes new users feel at home quickly and lets them become highly productive very quickly.
7. Negligible licence fee
There's a feature-rich free version available which is sufficient to get started quickly.
The paid version is best for groups and sharing information. Its powerful features are available for just $13 per user per month. Some organisations already own all the licenses they need as part of their Office 365 suite.
8. Rapid iteration
Simply sign up to Power BI and start turning your data into useful information for decision-making.
There is no need to spend months on rolling out and documenting specifications. This reduces the "lost-in-translation" issues and cuts the development period, saving you time and money.
This means you'll be enjoying the benefits of Power BI much faster.
9. Support & integration
Power BI is supported by Microsoft and integrates tightly with the Company's other applications and products.
This ensures peace of mind as far as the integrity, reliability, relevancy, future development and outlook of the tool is concerned.
10. Connectors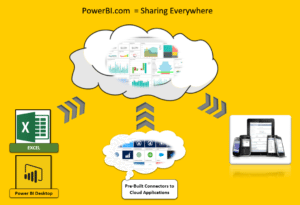 So that you can hit the ground running, Power BI comes with pre-built dashboards and report packs for many commonly used systems and platforms, such as:
• Microsoft Azure
• MailChimp
• Oracle
• Microsoft Dynamics
• QuickBooks Online
• Xero
• and Google Analytics
… to name but a few.
If you wish, you can start with any of the connector dashboards and get some powerful analysis up and running within minutes. Alternatively, because they are highly customisable, you can tweak the pre-built dashboards to your liking.
You may also, off course, ignore the connectors altogether and start from scratch by designing and developing your own content pack.
So, whichever way you need your data sliced, diced, mashed and presented, Power BI is up for it. Give your business the intelligence advantage with Power BI.